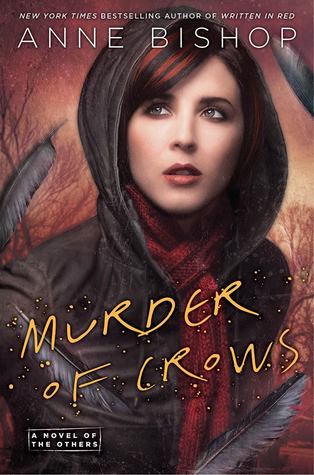 Book 2 in the Others series
Previous Others Series Reviews
Murder of Crows
by
Anne Bishop
5 stars
I read this book months ago and I've reread it many time since. After perusing Anne Bishops' website, I've discovered more about the Others' world regarding the layout. We start out with a preface again, introducing us to the world of the Others. This is for readers who may not have read the first book or to give us a little reminder of how everything is set up. Since it's book 2, you can skip it.
This book picks up right after Meg gets home from the hospital in book 1. Simon and Meg have become closer and now share bed every night. This relationship gets complicated after Simon being woken up and shifting back to his human form during the night. The tension that develops between the two affects the whole Courtyard. This is unsurprising as Meg is a key part of the Courtyard.
We see new sides of Simon and his confusion towards his feelings for Meg. He's a wolf that's suddenly having feelings for a human. It's obvious that he loves Meg just as she loves him but their relationship is complicated. You really feel for Simon and Meg. They don't understand what's going on.
There are new characters introduced and the tension between the humans and the Others continues to grow. The Humans First and Last movement that was casually mentioned in Written in Red is now more prominent. There are more and more issues with the drugs known as Feel Good and Gone Over Wolf. These drugs are contributing to the hatred growing between the two races.
I like that we see more character growth in all the primary and secondary characters. I did really miss having Sam in this book. He's so cute and you can't help but love him. I also really like Nathan. He's the watch wolf and we rarely see him in human form but he has a personality anyway. There are many humorous parts which compliment the dark and tense parts as well.
The Others series is one of my favorites in this genre, right up there with Kate Daniels. The world building is excellent and the characters are well developed. This was easily 5 stars. My only complaint is there isn't much fan art out there for me to fawn over.
Next up: Vision in Silver. What's going to happen next?