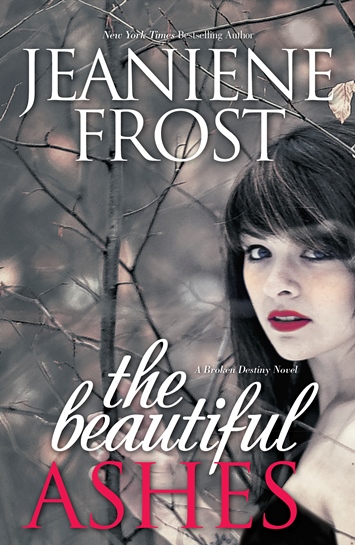 Book 1 in the Broken Destiny Trilogy
The Beautiful Ashes
by
Jeaniene Frost
5 stars
First off, I love Jeaniene Frost. I follow her on Twitter and she's awesome. I love her Night Huntress series so I was excited to see what she would do outside of the Night Huntress world. The Beautiful Ashes is definitely much different than anything Frost has every written and it's fantastic.
This book is based on biblical characters. There are angels (Archons) and demons, minions, crazy pets, and then there are these very special people who can save the world. Special person #1 - Ivy. Special person # 2 - Adrian. In the beginning we are introduced to Ivy's dilemma with finding her sister and the death of her parents. Then she gets saved by Adrian and her world falls down around her ears.
Ivy is left in the dark for a while in the beginning of the book. Adrian's keeping secrets and no one will tell her the whole story. Sometimes I hate first person narrative because I want to know the secrets but since the character doesn't know, I don't get to know either! Frost did a good job easing into the world that she's created by using Ivy. There were no info-dumps and no insta-love. Sure, we know that Ivy and Adrian are made for each other but they fight it and the time period of their adventures is not over three days but weeks.
In order to save Jasmine, her sister, Ivy has to find one of three hollowed weapons. Adrian can take her to the demon world where she can use her power to sense the weapon. What I liked about the demon world was how well it was created. Since there is no sun in the demon world, everything is freezing cold. Humans are considered slaves and many of them are forced into cannibalism because no plants grow there.
There are many horrors Ivy witnesses and the things she faces definitely wakes her up to her new reality. Adrian is trying to fight his fate and Ivy is trying to save him. This is never easy. But they do fall in love and they are great. I can't wait for the next book. I really enjoyed it and I'm looking forward to the next adventures Ivy and Adrian will face together.
I didn't know what New Adult was until Frost started talking about her new book. It's a new genre and there aren't very many paranormal books within the NA genre. For some reason people don't seem to write books where the characters are between 18-25. Basically during the college years. But it's becoming popular now so I'm excited to see more. Hopefully more authors will be published and the genre can grow.
Watch the book trailer.