Magic Rises (#6)
by
Ilona Andrews
5 stars
Previous Kate Daniels Series Reviews
This is my reaction after I finished.
Basically I was shocked. Stunned into silence simply thinking omg what the heck did I just read. My head is going to explode. These events seriously did not just happen. There is no way that any of this happened! But it all happened. This will be a spoiler free review unless you click the links the go to my spoilers page. Seriously I'm spoiling a lot so really don't read the spoilers unless you want to.
This was the best book out of all of them. Even better than Magic Bleeds and that is my favorite one. The characters and the world and everything is progressing beautifully. There will be ten Kate Daniels books and if they're all as wonderful and emotional as Magic Rises, I don't think I'm going to be able to handle it.
For those of you who don't religiously follow Ilona on twitter and don't stalk their blog everyday, you wouldn't know that Hugh d'Ambrey was going to be in this book. It's no spoiler. How he arrived in this book is the shocker. I definitely did not see that one coming (
view spoiler
).*
The book starts out with Kate sparring with Julie with the spear. Julie isn't paying attention so Kate decides to let her go to her friend Maddie. It turns out that Maddie and her twin sister Margo have started to go loup. This isn't spoilers because the first two chapters were posted on their blog. Anways, Curran walks in with panacea. This herbal medicine helps reduce loupism in children and it's from the European packs. They don't give it to the Pack in Atlanta but they used to have someone who could smuggle some out for them. Well he turned up dead and they were SOL. That is, until Curran got an offer that he couldn't refuse even though he knew it was a trap. He was to go to Atlanta to mediate between three packs and they were to also guard Desandra. Desandra is a pregnant girl but she is pregnant with twins who have two different fathers. Whoever's child is born first inherits the Carpathian mountain territory.
Curran and Kate head out to sea with Derek, Andrea, Raphael, Mahon, George, Barabbas, Aunt B, Doolittle, Kiera, and Eduardo. Saiman provided a ship and a crew. He obviously didn't want to do this but he owed Kate for saving his life when he was kidnapped. This little scene was deleted from the book but was put at the end for the readers anyways. Crossing the Atlantic and then the Black Sea is extremely dangerous. Magical creatures like sea serpents attack ships often and raging storms threaten to sink ships. There are pirates and all sorts of other dangers so the weeks they spend on the ocean is treacherous. As they near their destination, they get attacked by pirates. These pirates are special (
view spoiler
).** They kill all but one pirate. This pirate says he has information so he has Saiman translate. Curran doesn't tell Kate what the pirate said but she isn't too bothered by it. She knows he will tell her when he is ready.
This book also has a mystery component to it. Creatures are attacking and killing guards and also attack the Pack (
view spoiler
).*** Kate gets asked for help in solving this little mystery and she does. I like that even though she's there to body guard Desandra with the rest of the pack, she is still doing some detective work. Something is always going on and Kate tends to figure it out; usually when they start trying to kill her.
Kate and Curran's relationship in this book is very difficult (
view spoiler
).**** This is where the emotional roller coaster comes into play. I wanted to punch Curran and my heart hurt for Kate. She loves Curran so much and her emotions were getting the better of her.
Obviously Hugh is the main focus of this book. He is up to something. He is trying to get Kate to "come over to the dark side." We discover how Voron died and how powerful Hugh really is because of Roland's magic. Hugh is just a bastard. There is no doubt about it. He is his master's creature and there is no changing him.
The huge end fight, the life and death fights at the climax of the book, was awesome. Just plain awesome. So much is happening and your brain is trying to keep up with the action. So many different things are happening all at once. This fight also has one of the saddest consequences (
view spoiler
).***** However, the story does have a happy ending. It's also a bit of a cliffhanger but not a bad one. One where you know what's going to happen next but it also makes you want to scream, "Give me more dammit! I want to know what's happening next!" Magic Breaks will be out sometime next year. It is currently being written and we have gotten a few snippets.
Many people have had questions so Ilona posted on her blog explaining some things
here
. We've even been promised a Curran POV novella for Magic Rises.
Five stars. Definitely five stars. 5.5 stars even.
Magic Rises hit
#1 on the NYT Bestselling List
. That's never happened before and I'm so happy for them and happy that I could be one of the many who helped them get there.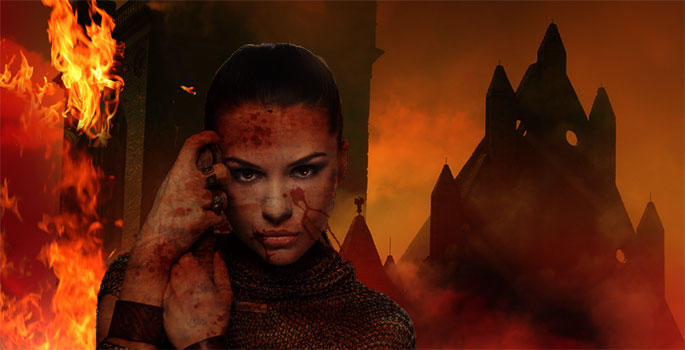 Copyright Ilona Andrews